**Dub Vendor Competition**
**CONGRATULATIONS** to the winner of the Dub Vendor Test Press Competition for the month of July. This time around we are giving away an upcoming Roots Youths Records release courtesy of Vinny Kullar. Track is entitled 'Evolution.'
And the winnner is................




**This Week's Roots Recommendations 1st June 2018**
Supremely excited about this Frankie Paul repress courtesy of Iroko Records. This tune has all the oozing, cool swagger of Jamaican music from this period. First heard this tune on an old Coxsone tape, as run by Festus in the early 80s. The riddim is just pulsating and the vocal is full a vibe.... Depth in the bassline is unmistakeable. Don't sleep on Side B. Killer Roots courtesy of Rod Taylor circa 79. There is a vocal on this riddim from Sylvan White which came out on 7 a few years ago. Deep roots for all the trainspotters. Also this week we feature what has to be described as a mystical tune courtesy of Prince Buster. Track likely done circa 67/68 and previously extremely rare... near impossible to find according to sources at Dub Vendor HQ. Powerful tune entitled 'Message to the Black Man'... Don't sleep on this. Rounding off the triumvirate this week we feature a next release outta JTS Label. As produced by the ever prolific Kai Dub of Maasai Warrior, this one entitled 'Mass Destruction.' Incarnated heavily on Tubby's system of recent, usually serving as a guidance tune. Heavyweight slab.
We also want to take time to thank everyone who participated and donated towards the Alpha Reggae Boys Raffle. We raised £186 for Alpha, all of which will go towards Alpha's infrastructure. Thanks to all and one!! Check the video below to catch a sideways glance (you'll see what we mean) of the prize draw.
https://www.facebook.com/dubvendor/videos/1887071207979920/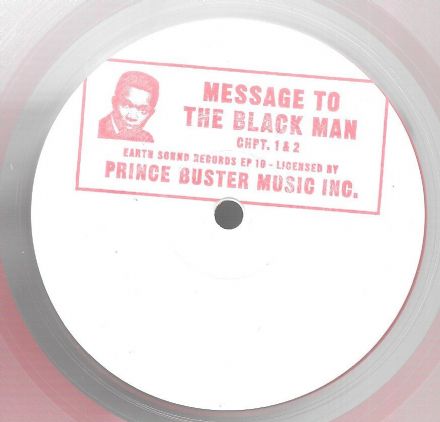 **ALPHA BOYS SCHOOL REGGAE RAFFLE**
We would like to thank everyone who donated in the Alpha Boys School Reggae Raffle. We are delighted to say we have raised £186 for Alpha.
All proceeds will go towards Alpha's developement in Jamaica. Congratulations to the winner and thanks for all of your participation.
PS... Apologies for our slightly wayward filming yesterday... We never claimed to be Spielberg lol!!


This Week's Roots Recommendations 4th April 2018
This week we feature some punchy 7" releases and also a fresh test press to really get the musical stimulus ignited. First things first, we feature an upcoming release courtesy of the veteran Prince Hammer. The track is entitled '400 Years' and is excellently produced by Hammer himself. Great instrumentation, rugged and full, with excellent original steppas percussion. The bass sounds round and tuff and Hammer's vocal is excellent. Great to see a veteran artist like Hammer resurfacing with production works like this. We have about 10 test press copies so grab them while you can. Next up we feature Ojah, a forward thinking production sound with spacey sonics and ruffneck chamber dub. The 7" comes with 2 tunes. 'Cycles' and 'Fear Not.' Strong release, veering on the darker side of the genre's mood scale. Also this week we showcase the latest Prince Alla release 'No More Will I Roam.' It slipped through the net last week, but makes it to the podium this week. Tuff riddim section courtesy of the Digital-Ites. Bold sounds and an empowered tone packed into this weighty 7".


This Week's Roots Recommendations 14th March 2018
A very exciting re-issue has hit Vendor this week. Gaffa Blue's Label have re-energised a tuff 12" slab vocalised by the man Earl Cunningham. Side A is over the same riddim track as Naggo Morris' 'Down In The Ghetto', another killer tune also on sale. For me however, Side B is where the magic lies. The 'Gates Are Open' is melancholic roots at it's best, with a harmonising vocal and a soft but deep riddim to align with it. A pure gem that is a must have. Stepping in the time machine we trod to the year 2018. Step forward Bredrin Records, a unit out of France. Their productions are clean and clinical, deep and perfectly adapted for sound system play. Kiraden Sound has been featuring some of their productions on his sound across Europe to great effect. This one features the veteran Judah Eskender Tafari with another 6 feet deep vocal. Side B also featuring the man Danny Red... Tuff 12" discus.

CHECK OUR WEBSITE FOR MANY MORE NEW RELEASES AND BEST SELLERS
Remove your address from this mailing list by clicking here.


**DUB VENDOR COMPETITION CLOSED**
Congratulations to the winner of the Dub Vendor competition, announced here in this video by the Disciples themselves.


This Week's Roots Recommendations 21st February 2018
Kicking off the week's reccomendations we have a relatively obscure unit by the name of Monyaka. The LP 'Classical Roots Showcase' features some nourishing roots sounds, clean and substantial. The first track on the album is a very exciting feature. Mikey Dread from Channel One has been circulating this tune on a 7" across the world, and it was hard to locate previously. To now have it on an LP with a warm and seamless dub mix is excellent. The rest of the album is also light and uplifting, high quality instrumentalism. Jah Massive are also in the mix this week with a hardline dub, trademark style, entitled 'Just Reward'. The soulful Idren Natural graces the riddim track with sharp ease and of course two cantankerous dub mixes for the meditators ensue. Rounding off this week's selection, we trod to France courtesy Blackboard Jungle's imprint. The great veteran Judah Eskender is on the A side with deepness. The riddims coming outta their studio are always full, clean and imprinted with quality. B Side is pure as well, Marcus Gad on vocal. Niceness.
Check out our monthly poll which we have just launched for 'Tune of the Month'. Share it on your pages and interact.
CHECK OUR WEBSITE FOR MANY MORE NEW RELEASES AND BEST SELLERS
2/10/2017: Coming soon:

Coming soon from Deeper Knowledge Records (DKR)...



Anthony Creary - Land Call Africa / Solid Foundation Band - Africa Dub 7" (Classic)
DKR-241
Total classic 1970's roots by legendary drummer (and sometimes vocalist!) Anthony "Benbow" Creary.
Recorded at the Black Ark during some Junior Byles sessions which Benbow was drumming on, this self
production by the musician and his band the Solid Foundation ended up being released thru Studio 1,
as the band was also backing many Studio 1 sessions at the time. Finally re-released on single with
brilliant dub, a classic slice of mystical '70s roots and one of Jamaica's finest interpolations of
a classic tune.

Pablove Black & Solid Foundation Band - Across 110 Street / Over the Bridge 7" (Classic)
DKR-243
Killer '70s roots instrumental interpolation spread over two sides. Pablove Black blows melodica
while the Solid Foundation Band turns it out. An obscure single originally released via the Total
Sounds distribution imprint in the mid '70s. If you love Augustus Pablo's '70s instrumentals or
Pablove Black's records this is right in your wheelhouse.

Paul Freeman - Great Tribulation / Version 7" (Classic)
DKR-242
Great one-away mid '70s roots produced by drummer and vocalist Anthony "Benbow" Creary. Originally
released via the Micron distribution imprint back in the day. Not much is recalled about Paul Freeman,
but in addition to this one he's got a handful of good singles on his own label. We count Paul chief
among the many brilliant obscure roots artists who cut singles in the style's heyday.

-----------------------------------------------------------------------------------------

NEW RELEASES FROM IROKO RECORDS.

BB85: 12 inch
A side: Roman Stewart - What You Wanna Do ( Extended mix)
B side: Linval Thompson - Jah Jah Dreader Than Dread & Version
Comes with printed Iroko records sleeve.

BB77: 7 inch
A side - Eric Donaldson - Rocky Road
B side: Version

-----------------------------------------------------------------------------------------


NEW RELEASE 12 INCH ONLYROOTS RECORDS

NORRIS REID & ROCKERS ALL STARS - RISE IN THE STRENGTH OF JAH / ENTRANCE OF JAH WORLD

ROCKERS INTERNATIONAL label
Produced by Augustus Pablo

Original recording of "Rise In The Strength Of Jah" from 1981 with its extended dub version. Produced by Augustus Pablo. Norris Reid will record it again in 1982 for Linval Thompson as lead singer of the Viceroys.
Flip side is another killer roots tune from the 80's.Backed as well by the Rockers All Stars.
Coming soon!
-----------------------------------------------------------------------------------------

Rock A Shacka Release Information

Black Thursday / Beautiful Brown Eyes - Don D Junior (Vin Gordon) / Earl Bros (Tramp) 7"

Vin Gordon, otherwise known as 'Don Drummond Junior' was the trombonist on over a thousand Studio 1 sessions, and the Skatalites's 'Black Sunday' (a cover of Luis Bonfa 'Samba De Orpheu' ) is still one of his favourite tunes, and is a regular feature in his live sets with the Reel Rock band.

He recorded this early 70's cut with the Soul Syndicate at Treasure Isle studio, and it was originally released on the famous Tramp label, with an uptempo love song from the mysterious Earl Bros on the B side.

Zion Youth Part 1 / Part 2 - Don D Junior (Vin Gordon) (Fe Me Time) 7"

Another collector's prize, this dangerous trombone instrumental from legendary trombonist Vin Gordon was produced by Jimmy Radway for his Fe Me Time label.

The track was recorded at Byron Lee's Dynamics Studio with a rhythm provided by an all star line up of sessioneers which include Aston "Family Man' Barrett on bass, Lloyd 'Tin Leg' Adams on drums , and Earl 'Chinna' Smith on guitar.

Words / Hot Tip – Gatherers / Prince Django (Upsetter) 10"

A previously unreleased mix of an alternate take of the classic roots anthem from Lee Scratch Perry, complete with false starts and full vocals from Sangie Davis and friends…… essential!

The deejay version - Hot Tip - is also very different from the original release, with multiple false starts and an alternative mix under the vocals ….. and it's longer too!

Due for release in late October

-----------------------------------------------------------------------------------------